FREE VISA ADVICE FOR 3 DAYS

Welcome to National Visas - Australia's leading provider of Australian visa and Australian immigration advice.

If you tweet about National Visas, we will offer you a free upgrade to a free 3 day subscription to the Online Message Centre which will allow you to communicate with our migration agents and ask any questions you may have about Immigration to Australia or getting a Visa to Australia.
Please be aware that to comply with Department of Immigration regulations, we require that you read the Migration Advice Profession Document before using this service.

How to get your free 3 day access: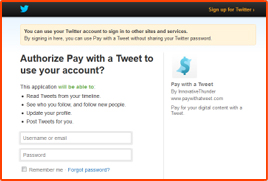 Login to your twitter account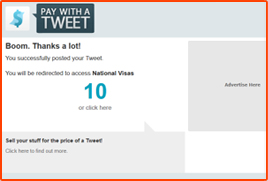 Post the tweet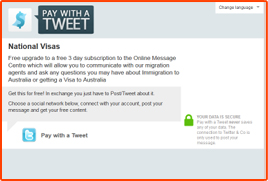 After tweeting, you will be directed to a download page where you will be required to either login to the National Visas registered client area (if you already have an account) or register an account so that you can login and ask your questions and read your replies from our migration agents.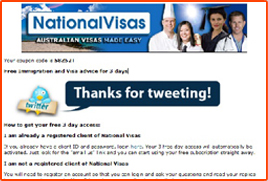 Your 3 free day access will automatically be activated! Just look for the "email us" link and you can start using your free subscription straight away.